March 8th 2022
2.5 Carat Diamond Ring Guide: Updated Price & Size Charts [2022]
By Devin Jones
2.5 carat diamond rings are impressive to behold but if you're not careful they can leave quite an impression on your wallet as well. Below are our tips for getting the very best 2.5 carat diamond for your budget.
Did you know? The average price of a 2.5 carat diamond is over $47,000 for a round cut but fancy shapes like oval, princess, emerald, and cushion cut can cost far less.
Is A 2.5 Carat Diamond Big?
Most people consider a 2.5 carat diamond ring to be quite large for an engagement ring. After all, the average engagement ring in the US is about 1 carat.
The average 2.5 carat diamond measures 8.71 mm wide (about 1/4 of an inch) and weighs 0.5 grams. In the 1 Carat Diamond Rings on Hand section below we'll show you exactly how big this looks in an engagement ring.
Best Color Grades For 2.5 Carat Diamonds
Larger diamonds require more attention to detail in terms of both color and clarity than smaller diamonds do and according to a 2018 study conducted by Daily Mail, the average diamond size that women consider "big" is 2.4 carats. So by definition, a 2.5 carat diamond requires extra special attention to detail.
So what color grades should you target for an icy white looking 2.5 carat diamond ring without blowing your budget?
The best color grades for a 2.5 carat diamond are I color or H color because they maximize appearance without overspending on quality you cannot discern with the human eye. For example, can you tell the difference between the colorless 2.5 carat D color diamond for $42,000 and the 2.5 carat I color diamond for $22,000 below?
Can you guess which diamond is the 2.53 carat D color diamond and which is the 2.50 carat I color diamond based solely on the images?
However, even J color diamonds with faint or medium fluorescence can look crystal clear – especially once they're set in an engagement ring setting. If you're considering a yellow or rose gold engagement ring you could even go for a K color diamond since the darker setting color makes the diamond look relatively whiter than it normally would.
What do 2.5 carat diamonds look like with different color grades? Check out these images of 2.5 carat diamonds ranging from D color – K color. Click on a diamond for more details.
Prices from our diamond price calculator: $62,474 D color, $59,157 E color, $54,028 F color, $49,391 G color, $43,351 H color, $34,276 I color, $30,045 J color, $25,106 K color.
It's difficult to see the differences between specific diamonds even when seen side-by-side in a grid like this one, and especially when viewed from above. However, if you view videos of the D color and K color diamonds next to each you can clearly tell the difference in a side view of the stones.
The difference in price is large though, ranging from $62,474 for the D Color to $25,106 for the K Color. Additionally, you can click on each of the images above to get the actual prices and more details on each specific diamond.
Given that round cut diamonds tend to hide color better than most fancy shapes, we generally recommend considering a higher (better) color grade for most fancy shapes than for round cut diamonds. How much better? Usually 1 color grade improvement is the proper adjustment to our advice on round diamonds and extend it to fancy shapes.
2.5 Carat Diamond Price Chart
Prices can, and do, vary for specific diamonds even more than those shown in the previous color grade example. There are many variables that affect diamond pricing, some of which you may be familiar with already (cut, symmetry, polish, and clarity grades for example) and some of which are more nuanced (the specific location and type of inclusions, specific dimensions of the diamond, etc.).
According to our diamond price calculator, the difference between 2.5 carat diamond prices and 2 carat diamond prices is about 44%. The difference between 3 carat diamond prices and 2.5 carat diamond prices is about 40%.
As if all that was not enough, the price of any specific diamond will change over time, and these changes can be significant.
Below you can see an example of our 2.5 carat diamond price chart for round diamonds. The average price for a 2.5 carat diamond is roughly $47,000 at the time of this writing (March 2022). To see the most up to date info check out our live updated 2.5 carat diamond prices page.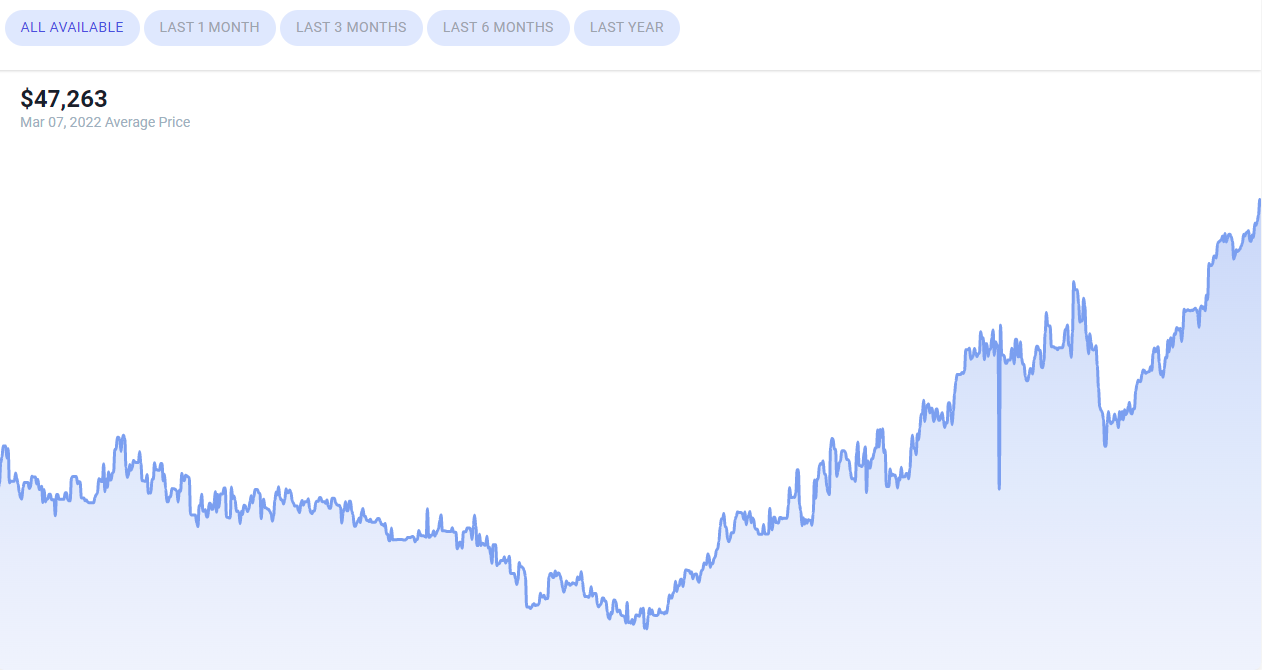 2.5 Carat Diamond Rings On Hand
One common concern amongst buyers is: what will the ring look like on her hand? Given that there are different hand sizes we have put together on-hand pictures for 2.5 carat weight diamonds on various ring/finger sizes.
Above: 2.5 carat diamond ring on size 4 finger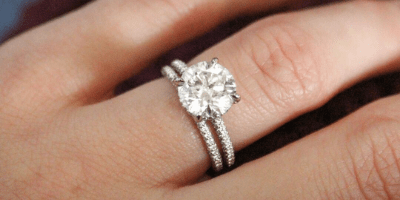 Above: 2.5 carat diamond ring on size 5 finger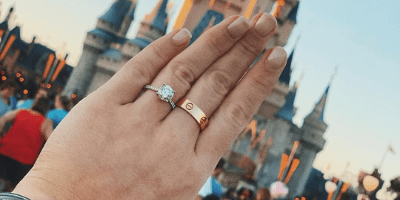 Above: 2.5 carat diamond ring on size 6 finger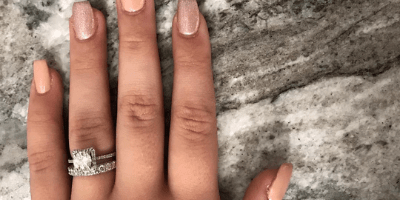 Above: 2.5 carat diamond ring on size 7 finger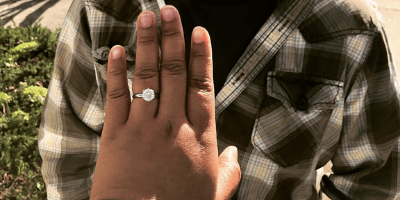 Above: 2.5 carat diamond ring on size 8 finger
2.5 Carat Diamond Ring Styles
Settings deserve a section of their own, as they can vary quite a bit and serve different purposes. You will definitely come across these 3 setting types which happen to be the most popular ones:
The solitaire setting: in this setting the only diamond is the 2.5 carat center stone and hence the sole focus
The halo setting: in this setting the 2.5 carat stone is surrounded by small diamonds all around it
The three stone setting: in this setting two small (or big, it's your call) stones are placed on either side of the 2.5 carat center stone
Let's go over a few examples of what each looks like and what it means for the appearance of a 2.5 carat diamond.
2.5 Carat Solitaire Setting (Also Known As A Prong Setting)
If you love your stone and want avoid distractions, a solitaire setting is the setting to choose. A solitaire engagement ring setting puts all the emphasis on the center stone and you can still choose the number of prongs as well as additional band styles if you want personalize the setting a little bit more (more on bands further down).
You can expect to pay around $450 for a 18k yellow gold setting like this solitaire engagement ring setting from Blue Nile.
2.5 Carat Halo Setting
Want to make the diamond look even bigger than it already is? The halo setting's small diamonds surrounding the center stone create a visual effect that enlarges the appearance of the center stone.
When it comes for the surrounding stones clarity and cut do not matter quite as much as they do for the larger center stone, you only want to make sure you get a similar color grade to the center stone. A halo engagement ring in 18k white gold starts at about $1,390 (like this one from Ritani).
2.5 Carat Three Stone Setting (3 Stone Setting)
Another way of achieving this visual effect, yet to a lesser scale, is to have two sides stones of whatever shape you like. The Three Stone Setting is beautiful and becoming ever more popular.
A three stone engagement ring in 18k white gold starts at about $3,220 (like this one from Ritani).
Pave Engagement Rings
As previously mentioned, customization of the band is yet another way of personalizing your ring. The most common style is the Pave, which consists of placing small diamonds across the band. You can have any setting matched with any band style.
In this example we are looking at a solitaire setting with a pave band. A 1/4 carat total weight pave engagement ring in 18k white gold starts at about $1,450 (like this one from Blue Nile).
2.5 Carat Diamond Size Chart
One common misconception regarding diamond sizes and carat weights is that double the carat weight means the diamond will look twice as large. However, what double the carat means is simply that the diamond weighs twice as much. Because diamonds are 3-dimensional objects, much of that additional weight falls below the surface and hence it does not look proportionately bigger.
| Carat | Diameter (mm) | Surface Area (sq. mm) |
| --- | --- | --- |
| 0.5 ct. | 5.10 | 20.41 |
| 1 ct. | 6.42 | 32.37 |
| 1.5 ct. | 7.35 | 42.39 |
| 2 ct. | 8.08 | 51.34 |
| 2.5 ct. | 8.71 | 59.55 |
| 3 ct. | 9.25 | 67.24 |
| 3.5 ct. | 9.74 | 74.50 |
| 4 ct. | 10.18 | 81.43 |
| 4.5 ct. | 10.59 | 88.06 |
| 5 ct. | 10.97 | 94.46 |