February 16th 2022
6 Tips For The Perfect Diamond Stud Earrings [2023]
By Devin Jones
The Diamond Stud Earrings Buying Guide
Diamond stud earrings are a timeless gift that make a big statement. The simplicity of diamond stud earrings is both sophisticated and elegant, making them a perfect gift choice for weddings, anniversaries, or the holidays. If you've used our site to choose the perfect diamond engagement ring in the past then you know we dig deep into the live diamond market to determine the best opportunities to maximize value at every carat size.
In this article we'll investigate diamond stud earrings and breakdown the nuances of how to choose the perfect pair for any budget, whether you're building your own diamond stud earrings or picking out a pair of brilliant lab grown diamond studs.
6 Steps To Choosing The Perfect Diamond Solitaire Earrings
Step 1: Determine Your Budget
Your budget will dictate a lot of the factors we consider hereafter and is an important place to start for most buyers. If you have a different budget than we outline below you can shoot us a message in the chat bubble at the bottom right of this screen to receive personalized advice.
To help you nail down your budget and carat weight, let's look at the average price for different sizes and types of classic diamond stud earrings. The first thing to understand when evaluating price is that diamond stud earrings are described in terms of carat total weight, more commonly expressed as "ctw".
For example, a 1 carat total weight pair of diamond stud earrings (like the ones pictured above) consists of two 0.5 carat diamonds, one for each earring. Below is an illustration of the relative difference in size between various common diamond carat weights as viewed from above. Remember, when purchasing a 1 ctw. pair of diamond studs you're actually buying 2 diamonds of roughly 0.5 carats each.
The following prices are based on our diamond price calculator's price estimates for I color SI2 clarity diamonds with no fluorescence and very good cut, symmetry, and polish. The prices are for a pair of diamond stud earrings in 14k white gold settings. To adjust for 18k white or yellow gold settings add $20, and for platinum settings add $90 to the below prices. NOTE: these prices represent the "fair mid" values of diamonds available online, you can typically do much better than these prices by looking for undervalued diamonds.
Natural Diamond Stud Earring Prices (Round Diamonds)
Step 2: Choose Your Style, Shape, and Metal
When it comes to diamond jewelry the most important factor to consider is not the carat weight or diamond quality, but the style of the jewelry itself. For diamond stud earrings, this step is pretty straightforward, but there are a few decisions to consider.
Diamond Shapes
The most common shape for diamond stud earrings is round and if you are going with a classic round shape you will have many more options to choose from than you would with a fancy shaped diamond. However, diamond stud earrings look great in a variety of diamond shapes including round, princess, oval, cushion, asscher, or pear shaped stud earrings.
Stud Setting Types
Stud settings are available in a variety of classic and contemporary styles. The most common types you'll find are four prong, three prong, and bezel earrings.
Four prong tend to be the most common and classic design, holding the diamond in place using four tiny arms (prongs) that guarantee a secure hold. Blue Nile makes an elegant and affordable four prong setting we really like in white gold and platinum.
Three prong settings are a little more unique and our preferred style of setting. Available at Blue Nile as a build your own earrings option (you choose the diamonds, we'll advise on which kind shortly).
Bezel settings hold the diamond firmly in place with a wraparound design and can make the diamonds appear slightly larger than they actually are, perfect for smaller diamonds. Whiteflash has a beautiful handmade full-bezel in 18 karat gold or platinum. Blue Nile carries a slightly less expensive bezel in 14 karat gold or platinum as well as a build your own earrings option.
Metal Colors & Types
The most common colors and types of metal for diamond stud earrings are yellow gold, rose gold, white gold, and platinum. If you are looking to stretch your budget you also have the option to choose between 14k and 18k yellow or white gold. The lower the karat, the less gold is in the metal alloy but also the cheaper the price. Please note that karat should not be confused with carat weight in diamonds.
Here's a quick primer on karat as it relates to gold. Gold is almost always mixed with other metals to ensure durability since gold is a very soft metal. 24 karat gold is pure gold and you can measure the percentage of gold in the alloy by dividing its karat by 24 (eg. 18 karat / 24 karat = 0.75 which means 18 karat gold is 75% real gold and 25% other metals). 18 karat gold will have a slightly yellower hue to it than 14 karat gold, but the difference is negligible enough that most people have trouble telling the difference.
If you're choosing between white gold and platinum we'd typically recommend going with white gold as the two metals look identical to the naked eye and white gold costs considerably less. However, metal type and color are a personal preference so choose what's right for you and your budget.
Step 3: Choose The Best Color & Clarity Grade For Diamond Stud Earrings
Diamonds perform differently in stud earrings than they do when set in an engagement ring setting. This difference is primarily due to the earrings' close proximity to hair and skin along the neck and ear that interfere with light entering and exiting the diamond as seen in the image below. This means the types of diamonds people choose for earrings tend to be of lower quality that the type chosen for engagement rings.
Simply put, below a certain color and clarity grade an observer will be unable to see the benefits of higher color and clarity grades. Couple this with the fact that diamond stud earrings are typically much smaller than diamond engagement ring diamonds and it only makes more sense to go with lower color and clarity grades.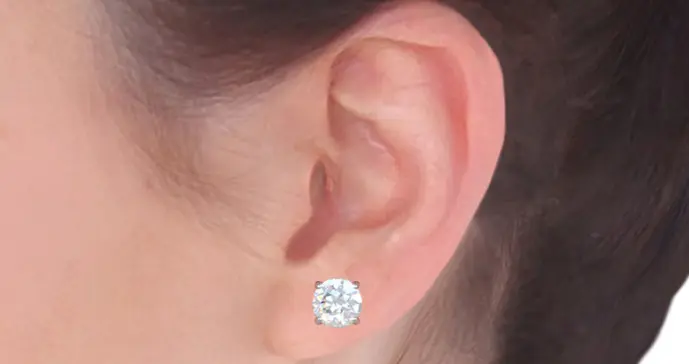 As with diamond engagement rings, the color of your setting will also impact the color grade of the diamond you should choose. Below are our recommendations for different types of round diamond earrings. For fancy shaped diamond stud earrings (cushion, oval, princess, pear, etc.) we recommend improving the color by one grade (so if we recommend an I color for a certain carat weight round diamond we recommend choosing an H color for your fancy cut diamond stud earrings).
Best Diamond Color for Platinum or White Gold Stud Earrings
1 carat total weight or less: J color
1 - 4 carat total weight: I color
4 carat total weight or larger: H color
Best Diamond Color for Yellow Gold or Rose Gold Stud Earrings
1 carat total weight or less: K color
1 - 4 carat total weight: J color
4 carat total weight or larger: I color
Shop the best diamond stud earrings from Blue Nile
Step 4: Choose a Clarity Grade for Eye Clean Diamonds
As we've already noted, you can get away with a much lower color and clarity grade in your diamond stud earrings than you can for a diamond engagement ring. For clarity we typically recommend looking for SI2 clarity or better clarity grade with no visible black inclusions.
For fancy shapes or larger round diamond studs (those over 1.5 ctw.) we would recommend being even pickier and considering SI1 clarity diamonds. The larger the diamond the more important the clarity grade becomes so you may need to adjust these recommendations slightly depending on your specific purchase.
A diamond like this excellent cut 0.5 Carat I SI2 pictured below is so eye clean it would even work in an engagement ring setting.
Step 5: Find A Pair of Diamonds That Look The Same Size
Once you've decided on your budget, style, color and clarity grades, it's time to find two diamonds that look as similar as possible. Both diamonds should have the same color grade and appear eye clean, but the carat size doesn't necessarily need to match. This may sound surprising, but carat size does not actually indicate size - it indicates weight. Two diamonds with the same carat weight can look different in size when viewed from above depending on how they're cut. The real measurements that need consideration are the length and width measurements.
We take this idea a step further by measuring the surface area of every diamond in our database and determining how large the diamond will look based on the average surface area of various carat weights. To learn more read our blog post on Visual Carat Weight.
Step 6: Ship them to your office or pick up from a FedEx Hold for Pickup location
The final step is to make sure you nail the surprise. Online jewelers typically ship through FedEx secured shipping which means you should have the option to ship to a FedEx "Hold for Pickup" location so the box doesn't arrive at your home and ruin the surprise. Another option is to ship the box to your office or to a close friend who is willing to receive it on your behalf.
Build Your Own Earrings