January 31st 2022
5 Reasons To Avoid Premade Engagement Rings
By Devin Jones
If you're shopping for a diamond engagement ring you've probably noticed that while some jewelers offer a huge selection of loose diamonds, others focus on premade rings. At first glance it might not seem like a huge difference – a premade ring is just a loose diamond plus a setting right? Not quite.
Below we'll explore 5 key reasons why it's better to buy a diamond and setting separately instead of a premade ring including:
1. Don't get ripped off by low quality diamonds
If you're like me, you probably started your diamond journey by Googling things like "1 carat diamond rings" and exposed yourself to the digital advertising algorithms as a totally uninformed consumer.
This sort of search often returns a list of cheap engagement rings from big box retailers. But why are their premade engagement rings so cheap compared to loose diamonds available from top-rated online jewelers?
Take Zales for instance, whose most popular 1 carat diamond ring sells for just $1,999.99. If this price looks too good to be true based on the live prices available on our diamond price calculator and 1 carat diamond prices pages, you're right.
Upon further investigation we can see exactly why these rings are so cheap – inferior quality diamonds.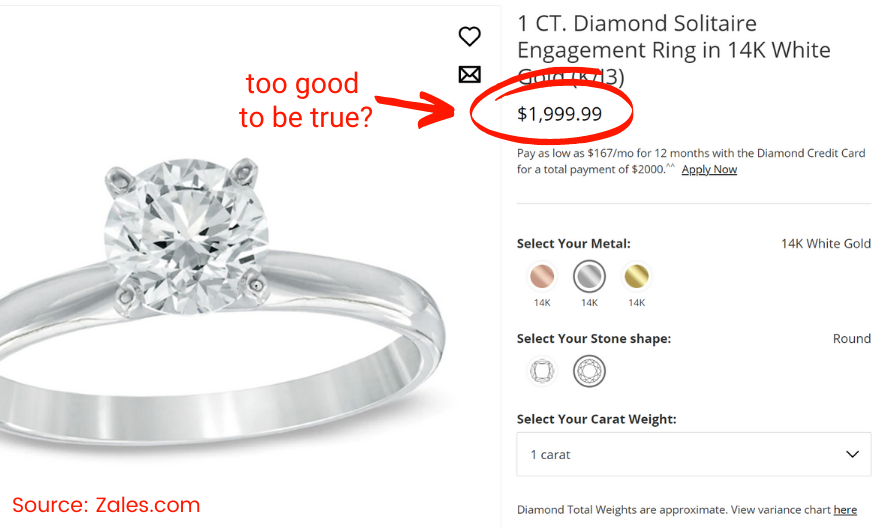 The types of diamonds Zales, Kay, and other big box retailers sell are the diamonds that other websites and local jewelers won't even carry, let alone sell to a valued customer. As one review on Zales website says, "the clarity was absolutely horrible. The diamond looked like it was made from a bunch of diamond dust. I returned the ring immediately".

A real review of Zales 1 carat diamond engagement rings (link)
These diamonds have an I3 clarity grade. The typical person begins to spot an issue with inclusions around the SI1 clarity grade, then there's SI2, SI3, I1, I2, and finally I3. She's definitely going to notice the imperfections in this diamond – you're not even in the same neighborhood as "flawless" let alone the same zip code.
Worse, you're not even guaranteed a full 1 carat diamond with these "1 carat diamond rings". Kay Jewelers says their "1 carat" diamonds can be as small as 0.95 carats. Zales says their "stone carat range" is "1/2 to 1".
The color grade of these diamonds is K color, which is the absolute lowest color grade we'd recommend for any diamond engagement ring. It's likely the diamond will give off a faint yellow tinge.
Finally, it's unclear which grading agency even graded these diamonds as I3 clarity and K color. We only recommend diamonds graded by top agencies like the GIA or AGS for natural diamonds and IGI or GCAL for lab grown diamonds.
At the end of the day it's not that these premade rings are less expensive than buying a loose diamond from a top-rated jeweler, it's that the diamonds in these rings are not comparable in quality to those available at most transparent diamond retailers. This is a common trick in many premade engagement rings but especially those from big box retailers like Kay and Zales.
What about cut quality, polish, symmetry, and the other things that matter like how big the diamond looks based on its measurements? Forget about it – Kay doesn't list any of this information and you won't know until you buy.
These diamonds don't deserve to be on your significant others finger, and definitely don't deserve your hard earned money. If you want to save this much on a ring – go for lab grown instead. At StoneAlgo we only list diamonds that are an SI2 or better clarity grade and with over 10 top-rated online jewelers in one diamond search engine you're sure to find a great options at any budget.
2. Save money by finding undervalued diamonds
As you can already tell, if a ring's price looks too good to be true, it most definitely is. That's why you want to find the best value, not the cheapest or biggest diamond for your budget.
StoneAlgo's diamond price calculator and our fair price estimates can help you identify the most undervalued diamonds on the market.
If you both want an heirloom piece of jewelry you can pass on to future generations then you might want to choose a G color VS1 clarity natural diamond.
If you want a diamond with show stopping sparkle, you need to make sure you look for highest cut quality possible (use StoneAlgo's cut score to find the very best round cut diamonds).
Our cut score feature finds the absolute best round cut diamonds.
Once you find a great deal on a quality stone, you can pick out an engagement ring online as well or get the diamond set at your local jeweler by bringing in your loose diamond.
3. Get the exact setting style you want
Premade rings come in a variety of styles, but the range of options pales in comparison to the selection you have when picking out a diamond separately from the ring setting. Some online jewelers offer thousands of setting styles when you include the metal types, diamond shapes, and other customizable options. Kay and Zales? Not so much.
When people were asked to rank the most important features of an engagement ring, the number one choice was not diamond quality or carat size. It was the style of the ring.
Think about that a second. We spend so much time worrying about whether the diamond will be clear enough, white enough, big enough, but what really matters is the most sentimental aspect of all: the style of the engagement ring.
4. Show how much you care
At the end of the day we're sentimental creatures. Sure, we care about important things like quality and even flashier things like carat size. But what matters to your significant other most is how much you care.
I know this sounds cheesy but it's true. There's a lot of science around people's love languages, understanding what makes your partner tick and why is a big part of what makes for a successful lifelong partnership.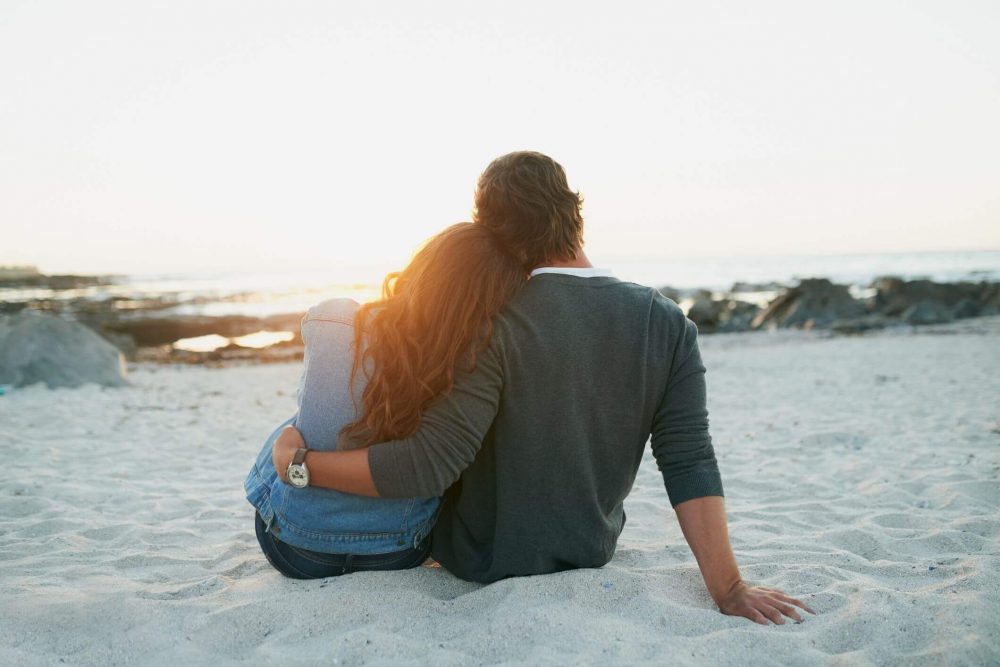 For many people, the effort they put into finding the perfect diamond engagement ring is a way to represent that bond with a symbolic gesture.
If you need help picking out the perfect engagement ring (and let's be honest, you probably do), find ways of bringing it up in conversation.
The next time you see someone posting engagement photos on Instagram, ask her what she thinks of the ring. She'll point out what she likes and just as importantly, what she doesn't. Ask questions and keep mental notes on what makes her ring uniquely special.
5. Get a ring that is uniquely her own
She doesn't want the same ring that thousands of other girls receive each year. Even if you're going for a classic setting like a white gold solitaire, there are little ways to make it special and unique. Buying the exact same prepackaged ring from Zales ain't it. Most online and local jewelers will add an inscription to the inside of the setting or customize minor aspects of the ring design at your request.
You can find the perfect natural or lab grown diamond to pair with any engagement ring setting by using StoneAlgo's incredible diamond search engine where we aggregate the inventories of 10 top jewelers including Blue Nile, Brilliance, With Clarity, Adiamor, Engage, RockHer, Whiteflash and many more.
Whether you're getting your dream engagement ring set online or off, we'll help you nail your proposal.
Best of Luck,
Devin, StoneAlgo CEO