March 8th 2022
1 Carat Diamond Rings: A Price Guide And Where To Buy Them
By Devin Jones
Shopping for a 1 carat diamond engagement ring? You're not alone. 1 carat diamond engagement rings are among the most commonly sought after for the soon to be betrothed.
In this guide we'll show you exactly how big a 1 carat diamond looks on a variety of hand sizes, discuss 1 carat diamond prices by shape, and help you better understand what color grade is best for a 1 carat diamond. We'll also break down which 1 carat diamond engagement ring styles are most popular and show you a 1 carat diamond size chart.
The Best Color Grades For 1 Carat Diamonds
One of the most common concerns people face when buying a diamond is the color grade. If you go overboard (like D color) you're wasting a ton of money. If you go too low (like L or M color) you're going to get a diamond that has an obvious yellow tint to it. So what color grade will work best with your 1 carat diamond?
Color is the #1 easiest way to overspend on your diamond engagement ring without seeing any tangible benefit from it.
For example, the below diamonds are a 1 carat round D color diamond and a 1 carat round I color diamond. Both are exceptionally well cut and will sparkle like crazy, but one costs $12,600 and the other is just $5,300.
Can you tell which is the D color and which is the I color just from these pictures?
Click the above to see which diamond costs $12,600 and which one is $5,227
If you're buying a 1 carat engagement ring for a white gold or platinum setting we recommend I color or better, for a yellow or rose gold ring we recommend J color or better, and for earrings you can step those recommendations down by a color grade each (for example you can choose a J color for white gold earrings).
Below we have 1 carat diamonds in every color grade from D - K. These diamonds are all VS1 clarity, have GIA Excellent cut/symmetry/polish, and fluorescence grades of none. We also opted for diamonds with high cut scores (our internal metric for light performance). You can filter by cut score for round diamonds in StoneAlgo's Diamond Search Engine
Click an image to see more details.
Believe it or not the above diamonds are all different color grades ranging from D - K in order from top left to bottom right.
1 Carat Diamond Price Chart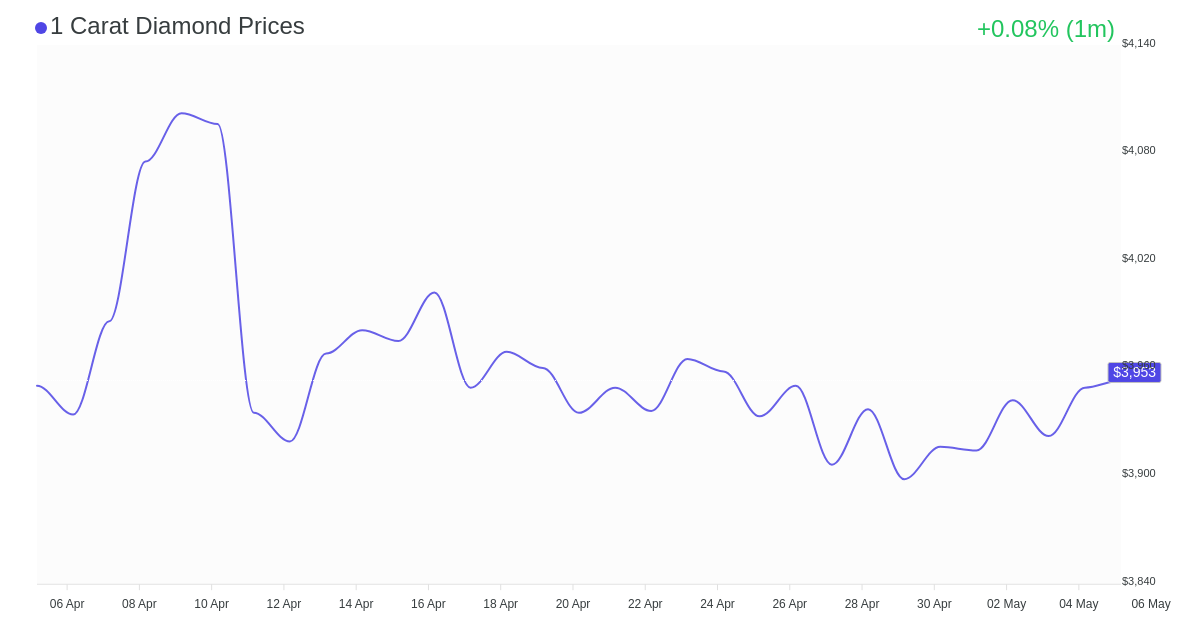 The above 1 carat diamond price chart is available as an up-to-date and interactive chart on our 1 carat diamond prices page.
1 Carat Diamonds On Hands
One common concern for diamond buyers is whether the diamond will look appropriately sized on the recipient's finger. Obviously, this is all very subjective but what we came up with two scenarios so you can see the difference.
Since a diamond's appearance will be relative the finger size of the person wearing the stone, a thinner finger will make the diamond appear larger. Here we see a 1 carat diamond on a variety of finger sizes: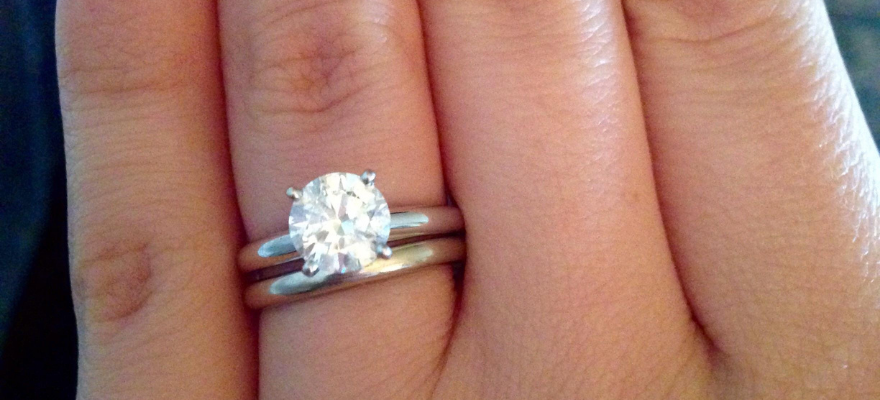 Above: 1 carat diamond ring on size 4 finger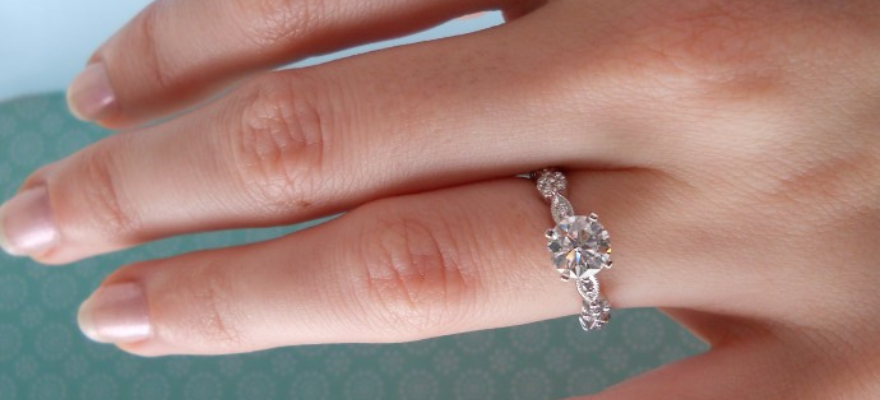 Above: 1 carat diamond ring on size 5 finger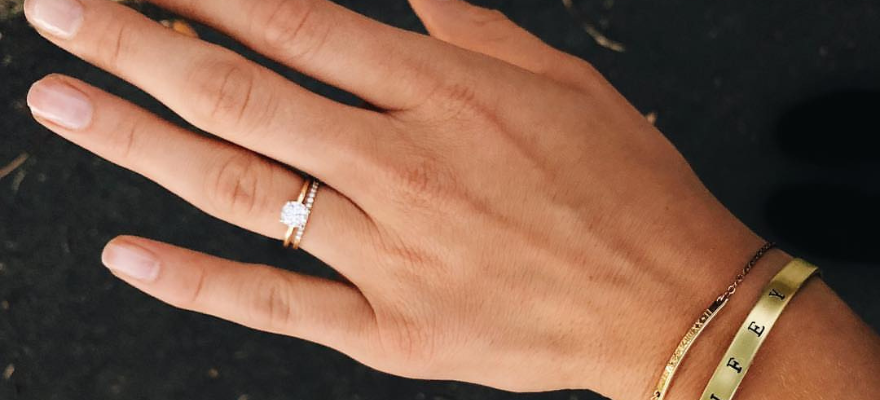 Above: 1 carat diamond ring on size 6 finger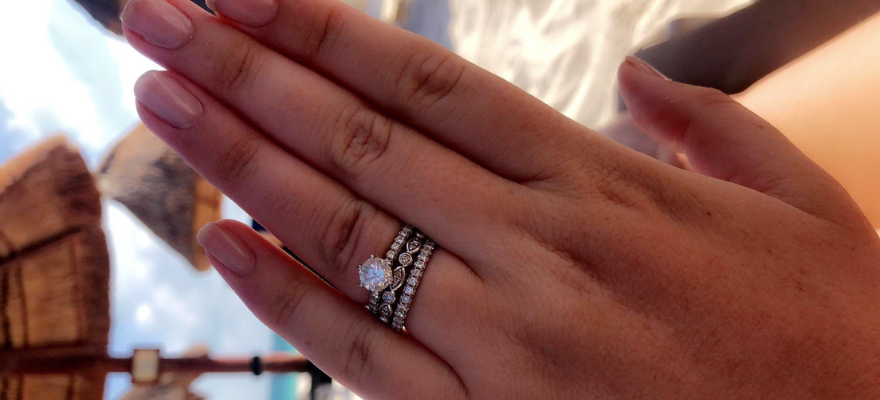 Above: 1 carat diamond ring on size 7 finger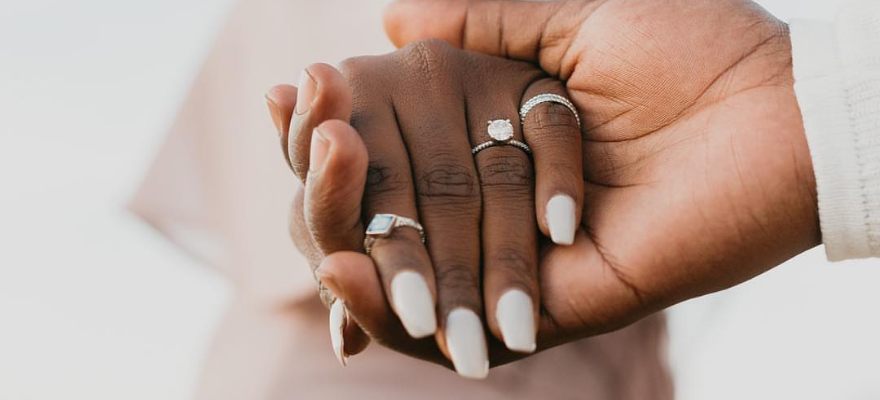 Above: 1 carat diamond ring on size 8 finger
1 Carat Diamonds In Different Setting Styles
When it comes to buying the perfect engagement ring it's not the 4 C's that most people value as the most important aspect of the ring - it's the style of the ring itself.Although there are many ways to go about styling your engagement ring, amongst the most popular ones are:
The solitaire setting: the sole focus of this is the center stone
The halo setting: the center stone is surrounded by small diamonds all around it
The three stone setting: a smaller diamond is placed on each side of the larger center stone, usually the side stones are of same shape as the center stone but you can change them as you please
Let's go over a few examples of what each looks like and what it means for a 1 carat diamond. All of the below images feature a 1 carat center stone.
1 Carat Solitaire Engagement Ring Setting (Also Known As A Prong Setting)
As you can see in the image below, a 1 carat solitaire diamond ring draws the main focus directly to the 1 carat center stone. This is the perfect setting if you feel confident that you have an amazing diamond and you want nothing to distract from it. Simple and classic, this setting will never go out of style. A classic solitaire engagement ring in 18k white gold starts at about $450 (like this one from Blue Nile).
Solitaire settings are beautifully simple, but there is still personalization to be had. Choose the number of prongs (4 or 6) and inscribe something meaningful inside the shank to add some personalization.
1 Carat Halo Engagement Ring Setting
You may have noticed that the 1 carat diamonds below looks much larger than the solitaires we looked at in the previous section. This inflationary effect is due to the halo setting which can help a diamond look significantly larger. This is due to the fact that the additional diamonds around the center stone's edge are sometimes perceived as a single large stone.
The effect may also be due to the fact that the center stone is proportionately much bigger than the small side stones, making the center stone appear larger on a relative basis. Generally speaking, a halo setting is the most cost effective way to increase the "size" of your engagement ring. A 1/4 carat total weight halo engagement ring in 18k white gold starts at about $1,390.
When choosing a halo setting, be sure to match the side stones to color of the center stone. If the side stones are a better color grade it could make the center stone appear more yellow.
1 Carat Three Stone Engagement Ring Setting (3 Stone Setting)
A 1 carat three stone engagement ring allows you to differentiate your style a bit while taking some of the focus off of from the center stone. It has an effect that is somewhere between the halo and the solitaire settings. The side stones make the overall ring look larger but the setting does not quite distract as much from the center stone as the halo does. A classic three stone engagement ring in 14k white gold starts at about $600 for the metal setting alone (like this one from Blue Nile).
Three stone settings are a classic style that make a big impact visually. Be sure to look at different three stone rings to understand your preferred proportions.
Pave Engagement Rings
What you may have noticed in your research is that within each category of engagement ring settings the bands differed a bit too: some are diamond studded nd some are plain metal. That's because each band can have different features, the most common one being the Pave Band which can go with any setting. The pave as you can see below is a band in which you have small diamonds going around the band. 1/4 carat total weight pave engagement rings in 18k white gold starts at about $1,450 (like this one from Blue Nile).
Pave settings are a great way to maximize the sparkly effect of your engagement ring. Some settings have diamonds that go all the way around while others leave some metal visible on the bottom.
1 Carat Diamond Size Chart
One common misconception regarding diamond sizes and carat weights is that double the carat means double the size (in diameter or surface area). But actually, double the carat means twice the weight. The weight of the diamond actually increases much faster than the diamond's surface area - but that's a story for another blog post (specifically our Visual Carat Weight post).
The below table shows the average diameter and surface area for round diamonds of various carat weights. If you find that a round diamond varies significantly from these measurements it is typically a red flag - the diamond may have been cut to maximize carat weight over sparkle for instance.
| Carat | Diameter (mm) | Surface Area (sq. mm) |
| --- | --- | --- |
| 0.3 ct. | 4.30 | 14.52 |
| 0.4 ct. | 4.73 | 17.59 |
| 0.5 ct. | 5.10 | 20.41 |
| 0.6 ct. | 5.42 | 23.04 |
| 0.7 ct. | 5.70 | 25.53 |
| 0.8 ct. | 5.96 | 27.90 |
| 0.9 ct. | 6.20 | 30.17 |
| 1 ct. | 6.42 | 32.37 |
| 1.1 ct. | 6.63 | 34.49 |
| 1.2 ct. | 6.82 | 36.54 |
| 1.3 ct. | 7.01 | 38.54 |
| 1.4 ct. | 7.18 | 40.49 |
| 1.5 ct. | 7.35 | 42.39 |
| 1.6 ct. | 7.51 | 44.25 |
| 1.7 ct. | 7.66 | 46.07 |
| 1.8 ct. | 7.81 | 47.86 |
| 1.9 ct. | 7.95 | 49.61 |
| 2 ct. | 8.08 | 51.34 |
As you can see, the 1 ct is twice the weight of the 0.5 ct but it only has 50% more surface area and only 1.32mm more in diameter.
1 Carat Diamond Prices
According to our diamond price calculator, 1 carat diamond prices range from about $1,000 to $25,000 depending on shape, color, clarity, and other factors. The average cost of a 1 carat diamond ring is about $1,500 - $27,000 depending on the diamond and setting you choose.
What might shock you is that a 1 carat diamonds cost nearly 5 times as much as an equivalent 0.5 carat diamond. You were probably expecting a 1 carat diamond to cost exactly twice as much as a 0.5 carat diamond weren't you? Most people do. But diamonds don't work like that for a few reasons. The two main reasons are that large diamonds are exponentially rarer than smaller diamonds and there is a lot of demand for certain diamond sizes like 1 carat that push the prices up even further.
The good news is that a 1 carat diamond can cost 70% less than an equivalent 2 carat diamond for the same reasons. But it's important to keep in mind that a 2 carat diamond looks just 37% smaller to the naked eye than a 2 carat diamond does. This difference is due to the fact that carat is a measure of weight, which is 3 dimensional, so as the diamond grows in carat weight some of that weight is added to the diamonds depth as opposed to the length and width that you see from above.
If you want to see live 1 carat diamond prices you can check them out here:
1 Carat Lab Grown Diamonds
Lab grown diamonds have become common place over the past few years and cost significantly less than natural diamonds. The average 1 carat lab grown diamond currently costs about 25% of the price of a similar 1 carat natural diamond. You can explore lab grown diamond prices on StoneAlgo and compare prices across a massive selection of online jewelers to ensure you find the best price.
Is a 1 Carat Diamond Good?
A 1 carat diamond is a good size for an engagement ring and is about the average size for an engagement ring in the US. A 1 carat engagement ring is a classic style that can be worn daily without looking ostentatious. For a pair of diamond earrings, 1 carat on each ear would be a show stopper as this is well beyond the average size for a pair of earrings.
Is A 1 Carat Diamond Big?
The average 1 carat diamond measures 6.42 mm wide (about 1/4 of an inch) and weighs 0.2 grams. In the 1 carat diamonds on hands section below we'll show you exactly how big this looks in an engagement ring. Given that the average diamond engagement ring carat weight is about 1 carats, we'd consider a 1 carat diamond to be a good (but not bigger than average) size.
1 Carat Diamond Earrings
1 carat is one of the most popular sizes for diamond stud earrings, but you should know that earrings are typically measured in terms of carat total weight (ctw) which measures the total weight of the two earrings together (halo and pave engagement ring settings are also measured this way). So, a 1 carat total weight pair of stud earring is typically a pair of 0.5 carat diamonds that add up to 1 carat total weight.
One of the bigger choices, at least for your classic diamond stud earrings, is whether to go for a four prong, three prong, or bezel setting. For each of those you can obviously choose different metals and colors according to your personal taste. We have dedicated an entire post for stud earrings which takes through everything from budget to specs and color/metal pairing (Diamond Stud Earrings Buying Guide).
© 2023 StoneAlgo, Inc. All rights reserved.