Last Updated on
April 29th, 2019
Ritani Review
Top Tier Online Jeweler
Ritani Review
Ritani is one of the three preeminent online jewelers that have helped to not only transform but create the online jeweler space over the past 20 years, along with Blue Nile and James Allen. Ritani, founded in 1999, was first and foremost a brick and mortar retailer until a major transition in 2012 led to their adoption of the "clicks and bricks model" alongside an investment from Cantor Ventures, a subsidiary of investment bank Cantor Fitzgerald.
The expertise Ritani possessed from their solely brick and mortar days as an engagement ring designer has fared them well in the online space, but it's their focus on technology that really impressed us in our research. Their website is fresh and easy to navigate, with surprisingly innovative tools like the ring recommender which uses your budget, diamond shape, and setting style to package a diamond and engagement ring setting together within your budget. Furthermore, Ritani is priced as aggressively as any online jeweler in the space with a selection of diamonds that is on par with James Allen and second only to Blue Nile. We wish they had more real images of their diamonds, but we've seen this improving weekly and you can expect this trend to continue.
Best For
Full Service and Low Prices
Based In
New York, NY and Seattle, WA
Established
1999
Jeweler Overview & Ratings
Pricing: 4.5
/5
Price is an important consideration when deciding where to buy a diamond (really, the main consideration for most of us) and it's an area where Ritani shines. Ritani's prices are currently industry leading, stacking up with any of the other low priced online jewelers in the market. Beyond their already low prices, Ritani will price match any competitors price if you find a diamond with the same specifications available elsewhere for less. As part of our pricing analysis across the online jewelers we studied, we compared common diamond credentials such as 1 carat G VS1 GIA Triple Excellent with None Fluorescence. At the time of our research (April 2019) Ritani offered the lowest priced specimen in this category, with several diamonds priced below $7,000. Our diamond price calculator (if you haven't checked it out you really should because it's awesome) predicted a price of about $7,300 as a fair value for this type of diamond at that same time.
Ritani keeps its margins razor thin and pass on the savings to their users, part of management's strategy to grow the brand into an online powerhouse like its peers. It is interesting that Ritani hasn't yet reached the same status as Blue Nile and James Allen, but we'd chalk this up to time. Those other brands had a 13 year and 6 year head start on Ritani in the online space. We'd bet that Ritani is on its way to receiving similar acclaim in the coming years.
Diamond Selection: 4
/5
As we've already mentioned, Ritani has an absolutely massive selection of diamonds that puts is on par with James Allen and behind only Blue Nile in its scope and scale. Combine the massive selection with their low prices and Ritani stacks up and bests just about every other online jeweler at the moment. The only complaint here, and it's an important one, is the dearth of real diamond images at present – there just isn't as high a percentage of diamonds in their database with images and videos as other top sites we cover like Blue Nile, and in-house inventory from Whiteflash.
If you find an awesome price on a diamond without images on Ritani's site we recommend you do two things to help figure out if it's worth purchasing. First and foremost, you should request images and videos of the diamond from one of Ritani's diamond specialists. This can be done via the chat feature on Ritani's site, by phone, or by e-mail. Second, you should run the diamond through our Diamond Comparison Report using the GIA number and carat weight. The comparison report will provide additional details including red flags (like bad inclusions), visual carat weight calculations, a price estimate, and a list of other diamonds worth considering given your diamonds credentials. If you order the diamond and it doesn't live up to expectations there is always the 30 day return policy to fall back on (which we'll outline later on).
Engagement Ring Selection: 4.5
/5
As you'd expect given Ritani's history as a brick and mortar engagement ring specialist and their current position as a top 3 online jeweler in the US, their engagement ring selection is also extensive. On the low end of the price range they have a full selection of solitaire engagement ring settings that start around $245 for 14kt white gold, in line with the cheapest options available from other top online jewelers.
Our favorite setting that Ritani currently offers is the French-Set Halo Diamond 'V' Band which has a slightly more unique design than the classic pavé setting (it reminds us a little bit of Stephanie Gottlieb's Split Shank Engagement Ring). Whether you want something flashy or simple, and regardless of your price range, Ritani has you covered with the ring. We also like the small and simple R logo they stamp inside each ring. It's subtle enough that the ring still appears unbranded (our personal preference).
User Experience: 4.5
/5
The Ritani user experience and overall site design should be a model for all other modern online jewelers. It's similar in aesthetic to James Allen with the big pantone colors in the hero but offers far superior navigation. Take the Ritani Ring Recommender (seen below) for example. This is similar to the walkthrough process that StoneAlgo uses on our home screen to quickly deliver new users into the best possible search given just 3 criteria, except here Ritani is showing you a prepackaged diamond and engagement ring setting that will maximize your budget.
While we do think that the site design is top notch, both in terms of looks and usability, there are a few annoying quirks to navigating it. For instance, if you want to share a diamond with a loved one via e-mail, there is no easily discernible way to get a link to that specific diamond. Other than that, the site has been upgraded substantially as of late and we think it's probably the best overall experience at any online jeweler we've studied in terms of usability and overall aesthetic.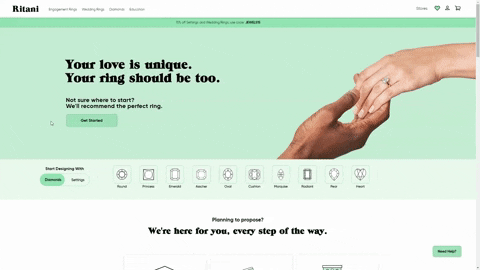 The Policies & Warranties: 4
/5
Free In-Store Preview
This is one of those cool things that Ritani offers that most online jewelers don't. You can create your ring online and then preview it in person at a local partner jeweler. If you don't love it there is no pressure to purchase on the spot and you can walk away right there. It's different from returning the diamond after you've received it at home since you can view it with the aid of an unbiased professional and also ship it somewhere your significant other won't accidentally intercept it.
Free Lifetime Warranty
Ritani offers a full lifetime warranty for any and all manufacturing defects on their engagement rings and wedding bands carrying the Ritani brand name. This does not cover designer engagement ring settings sold by Ritani. Make sure to active your warranty after purchase to ensure your ring is covered.
Price Matching
Ritani offers a full price match guarantee in case you find an identical diamond elsewhere for a lower price. We doubt that you will run into this situation often as Ritani is consistently among the lowest priced online jewelers we study. If you want to learn more or discuss a diamond you found elsewhere simply give them a call at 1.888.9RITANI for more information.
Free Express Shipping
As you'd expect from a modern online jeweler, Ritani offers complimentary shipping via Fedex priority overnight, fully insured of course. A signature will be required upon delivery of your handcrafted Ritani engagement ring or loose diamond. If you prefer to ship to an alternate address that is also an option on orders over $1,000 or you can request to have any order of $500 shipped directly to one of Ritani's partner jewelers free of charge.
Free International Shipping For the Troops
For our brave service men and women Ritani offers free shipping via USPS to anywhere in the world. Simply fill out the appropriate code (AE, AP, AA) for your state and APO, FPO, or DPO for your city. For more details read more here.
30 Day Money Back Guarantee
Ritani has a 30-day return policy which is the current industry standard and includes a zero cost restocking process and FedEx return shipping prepaid to help expedite the process for you. If you don't absolutely love the ring, Ritani will schedule a FedEx pick-up at your home or office to make life easier and save you the hassle of another errand.
The Final Verdict
Ritani is one of the top online jewelers in the industry and has solidified itself as not only a price leader but a tech leader as well with its intuitive interface and superior user experience. The only real weak point for the brand is its lack of sufficient HD images and videos, but their pricing and selection of diamonds and engagement ring styles is on par with any online jeweler we've researched. If you're looking for a great ring from a brand you can trust, we'd put Ritani up there with Blue Nile as today's top overall online jewelers.